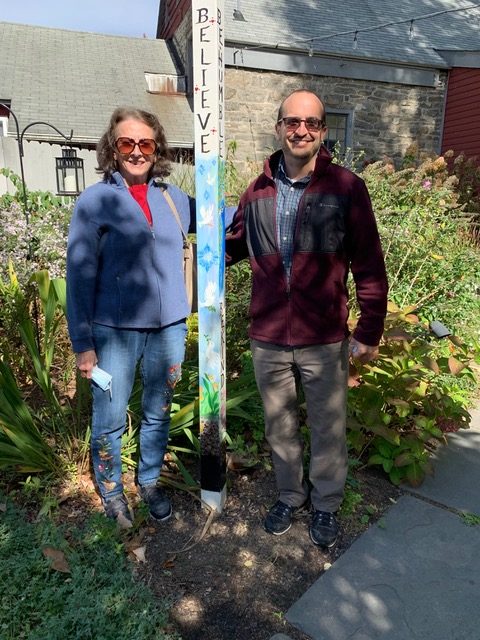 When the New Paltz Regional Chamber of Commerce launched the "Community of Peace" project, Jane Amato's son encouraged Jane to participate. Artists were invited to submit a "multimedia peace pole" or a "painted (or multimedia) free- standing peace symbol." Select pieces are to be auctioned to fund a community impact art scholarship, to be awarded annually.
Jane's pole was one of 22 poles, 20 peace symbols and three soft sculptures exhibited throughout locations in New Paltz, NY and nearby Gardiner.
The project is subtitled "An artistic study on what brings us together." Jane's beautiful pole was installed in front of Garvan's Restaurant in New Paltz. The picture of Jane and her son doesn't convey the size of the pole-the painted portion of the pole is six feet. The pole itself is eight feet tall.
Congratulations to Jane and her participation in a project that declares, "participation as a means of bringing about positive change."
By the way, Jane has already submitted artwork for our "Bringing the Bible to Life" project. Have you submitted yours yet? Eric Kreuter or Connie Knapp would be happy to talk with you about any ideas you might have to contribute to this congregational and community-wide project. See more in this post about the project.