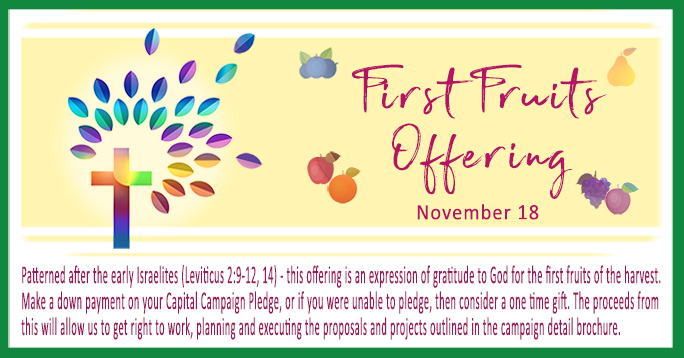 Last Sunday our church family expressed their faith in our future by offering commitments to our annual and capital stewardship campaign Grounded in Gratitude, Forward in Faith. We have been overwhelmed by your generosity and faith in the future!
As we transition from the first phase of the campaign into the implementation of campaign projects, we want to invite you to make the first gift towards your commitment through a First Fruits Offering on Sunday, November 18, 2018. This offering is patterned after the early Israelites (see Leviticus 2:9-12, 14) who brought the first fruit of the harvest to the Temple as an expression of their gratitude to God. The proceeds from this First Fruits Offering will allow us to get right to work, planning and executing the proposals and projects outlined in the detail brochure. Even if you have not been able to make a campaign pledge, you may want to make a special gift towards the capital campaign.
Some have asked how to make their gifts to the general budget and to the capital campaign in ways that will ensure accurate record keeping. Regardless of the method of payment, please make sure to clearly mark your intentions with each gift. If you are paying by check, make a note in the memo line. If you are paying by cash, clearly label the envelope with your name and the proper campaign. When using our online system via myFPCY.org, be sure to select the correct fund from the drop-down menu for each gift.
On Announcement Sunday, December 9th, we will hear both the total amount of commitments made to our capital campaign and the amount collected for our First Fruits Offering. Over the next three years you can expect to be updated on the progress of your individual giving as well as our corporate giving by the Connections Team.