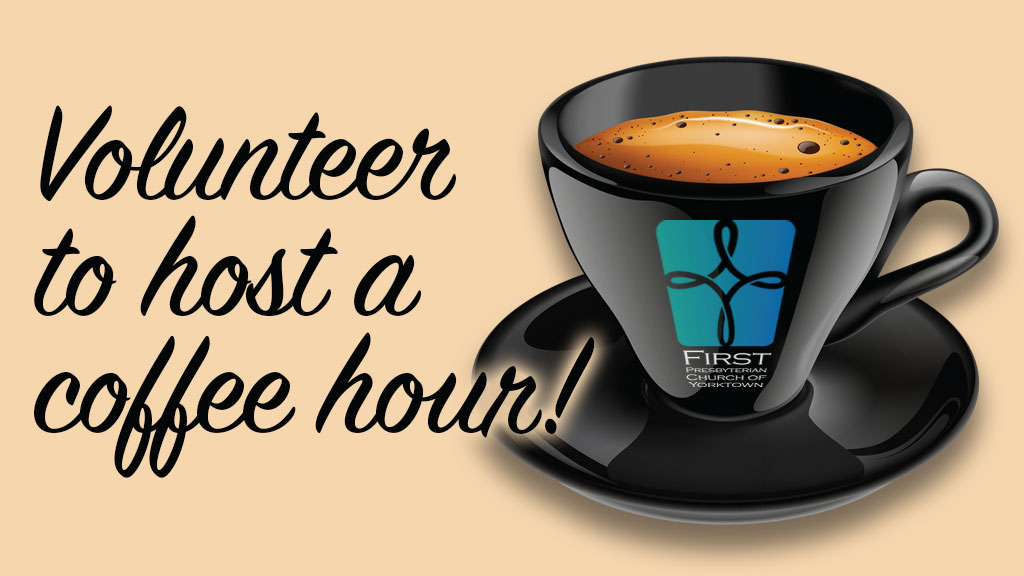 Coffee Hour after our service(s) is a time for fellowship and catching up with each other. In order to have coffee hour, we depend on volunteers for simple tasks that include setting up, plugging in the urns, and cleaning up. Please consider signing up for one or more Sundays so that we can all enjoy one another's company along with some coffee!
Here is a more detailed description of the various tasks. You can sign up for any of these three. If you plan to do set up on Sunday morning, you probably want to sign up for the plug in task as well.
Set up
Set up should be done either on Saturday or Sunday before the earliest service, whichever is more convenient. If you set up on Saturday, make sure that no events are planned and that you have access to the church.
The coffee hour cart is in the closet situated to the left of the doors that lead into the kitchen. Take the tablecloths off of the cart and place them on the rectangular tables under the windows in Fellowship Hall, and then place urns and other items on cart on top of the tables.
Fill hot water, decaf, and regular coffee urns with water.
For summer months:
use 20 cups for hot water
18 cups for decaf coffee
18 cups for regular coffee.
For other months:
use 24 cups for hot water
use 24 cups for decaf coffee
use 30 cups for regular coffee.
Using the measuring cup on the cart, put decaf and regular coffee grounds in their respective urn trays in the amounts listed below:
2 ½ cups of grounds for 30 cups of coffee
2 cups of grounds for 24 cups of coffee
1 ½ cups of grounds for 18 cups of coffee
Two extension cords are located on the cart. Use them for the hot water and decaf coffee pots. The cord for the regular coffee urn is long enough to plug into the wall socket without an extension cord. Do not plug in any of the urns; this is a separate task that will be done just prior to the first service.
Plug in
Plug in the urns before the first Sunday service.
Clean-up
After most people leave, start to clean up. Empty the urns, rinse them out, and reassemble as required. Make sure the hot water tag is placed on the hot water urn to prevent people from mistakenly using this urn for coffee in the future.
Put urns and other items back on cart along with the extension cords and table cloths.
Roll cart back into the closet to the left of the doors leading into the kitchen.