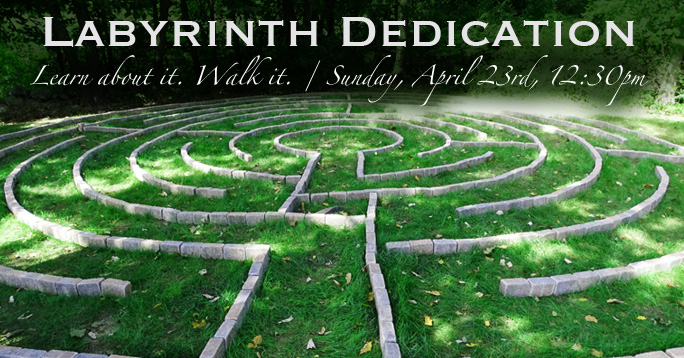 On Sunday, April 23, at 12:30 pm we will dedicate our new outdoor labyrinth. A labyrinth is a single path with one entrance and exit that is often walked as part of a spiritual practice. The image above from last fall was before the bricks were set into the grass– now the area can be easily mowed!
Ground was broken last fall as the spot was cleared of root and plant growth. A work crew of both young and old prepared the ground, and Dick Seymour brought in a small bulldozer to help finish the job. The area was covered with topsoil and then grass was planted. Finally, bricks were set into the grass to outline the path.
We worked with certified labyrinth facilitator Lynn Brown who laid out the Santa Rosa style seven circuit labyrinth.
The labyrinth will be open to the public and will be listed on the World Wide Labyrinth locator.
Everyone from the local community is invited to this short dedication event and there will be an opportunity to learn about labyrinths and to walk the new installation. The dedication will be held rain or shine. The labyrinth is located in the wooded area behind the back parking lot.