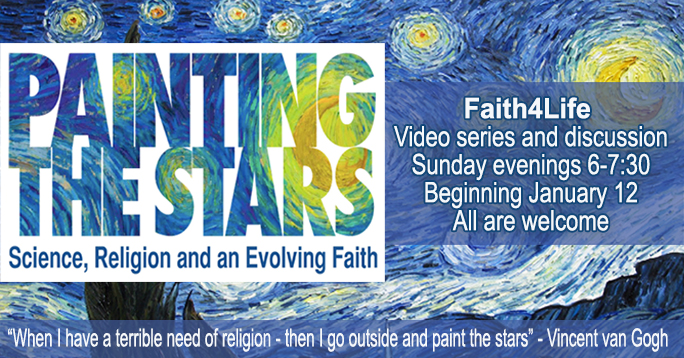 This Faith4Life series invites skeptics, seekers, the "spiritual but not religious," and people of faith, to a conversation about the intersection of science and religion.
Painting the Stars: Science, Religion and an Evolving Faith, is a video and discussion series exploring Evolutionary Christianity. All are invited to participate on Sunday evenings, 6:00-7:30 pm: Jan. 12, 19, 26, Feb. 9, 16, 23 & March 1.
While science and religion have been at odds throughout much of history, there is a movement today to build awareness of the light that science sheds on spirituality and theology. This video-discussion series explores the intersection of science and faith. It is a broad introduction to the conversation that is going on among theologians and other thought leaders who are wrestling with where Christianity is going in the 21st century.
We will meet in the Library/Room 15. Please use the back parking lot.
The study takes its title from the spiritual musings of the artist, Vincent van Gogh:
"When I have a terrible need of – shall I say the word – religion, then I go out and paint the stars."