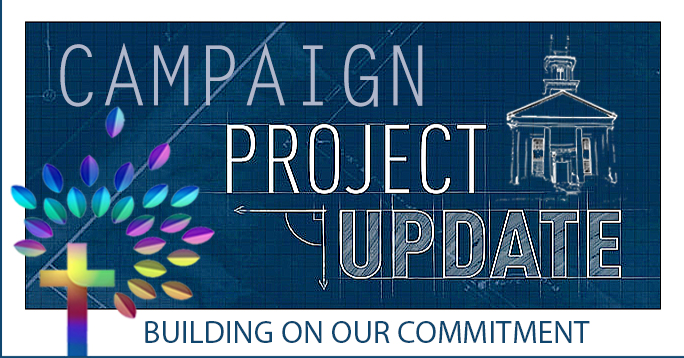 Spring brings warm sunshine, lovely flowers, and the ability to start new construction and renovation projects! The Operations Commission, the Sanctuary Strategy Team, and the Kitchen Design Team are all hard at work, with the goal of completing big Capital Campaign projects before the fall.
(See photos of the projects mentioned here)
Already underway are the replacement of our aged boilers (both for the CE building and the Sanctuary) and the refurbishment / improvement of air conditioning for the Sanctuary, Fellowship Hall, the library and the new big classroom in Room 7. Many thanks to Dick Seymour for his coordination of this project; the air conditioning will be accomplished with heat pump technology that will reduce our reliance on oil, and use our solar generated electricity.
The air-conditioning project opened up the opportunity to renovate the office, to complete its accessibility and to create a Youth Director office. We are also improving the wiring for internet and phone within the office, to the new board room and to the music room (many thanks to Bryan Ekelund and Jim Gerth).
The Sanctuary team has ordered new cameras and control boards, and new speakers will be coming soon, to enable us to improve the experience in the sanctuary as well as to stream services with higher quality than our current equipment allows.
And there's more! Three ambitious projects for the summer include re-paving the big lot, installing lights on that lot, and the long-awaited kitchen renovation.
We are so grateful to the congregation for the faithful fulfillment of pledges that enable us to do this work, and to those angels who have felt called to give beyond their initial pledges. We are on a path to complete more projects than were on the original campaign list, all geared towards enabling our growth in ministry and fellowship in 2021 and beyond.
As ever, we are so grateful for the support of the congregation and the faithful fulfillment of pledges to the capital campaign to enable us to do this work. If you haven't yet made a commitment, please prayerfully consider participating in this campaign for the present (and future) of our Ministries of Faith. Pledges can be made via myFPCY.org. If you have made a pledge, but haven't yet made a gift, or if you wish to make a one-time gift, you can do so at your convenience.