Church School
Click HERE to Register for Church School 2013/2014
"At the center of the universe is a loving heart that continues to beat and that wants the best for every person. Anything we can do to help foster the intellect and spirit and emotional growth of our fellow human beings, that is our job."
Fred Rogers, Mr. Rogers' Neighborhood
We have chosen the words of the late Fred Rogers, an ordained Presbyterian minister and long-time producer of the classic children's program, Mr. Rogers' Neighborhood, to express the vision of our Education programs at the First Presbyterian Church of Yorktown. We nurture the faith journeys of individuals of all ages, and at all stages of life and of faith. We teach that God incarnate in Jesus of Nazareth is a gift and a mystery, rather than a dogmatic certainty. We find grace in the search for understanding, and in the struggle to live as God would have us live. We welcome all who are engaged in an honest search for God.
Our Church School (Sunday School) welcomes children each Sunday morning, preschoolers through middle-school-age youth. With a rotating volunteer staff, Church School opens each week in the sanctuary with a joyous expression of faith in song, followed by the signature element of our Church School . . . the Storytellers!
Our Church School is an outreach ministry. While many of our families are life-long Presbyterians, we also attract parents from many faith backgrounds. Our Church School's reputation as a welcoming, creative, and non-judgmental place draws families of all kinds.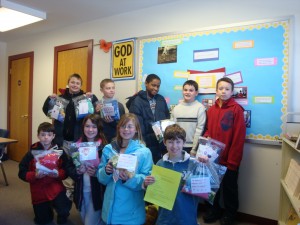 We teach the Christian commitment to peace, justice and service in Church School.  Our youngsters engage in at least one significant mission project each year, reaching out to poverty stricken areas in other parts of the U.S. and across the globe.
Church School starts at 9:30 on Sunday mornings with a 15-minute "Gathering Time", a mini-worship service targeted to children. After "Gathering Time", the children proceed to individual classrooms, where lessons are targeted to specific grade levels.
FPCY Church School brings in Superheroes to help tell the story.
Talented actors from our congregation bring Bible stories to life. Then, the children break into class groups and go to various classrooms and centers for hands-on activities that help reinforce the lessons from the Bible story.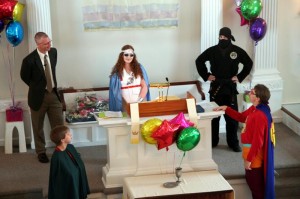 From left, Pastor Chip Low,  Bible Boy, Amazing Grace (How Sweet the Sound), New Testament Ninja, and Super Bible Man
| | |
| --- | --- |
| Super Bible Man Explains Maundy Thursday | Super Bible Man and New Testament Ninja Explain Pentecost |
| Matthew Explains Jesus' Healing | The Prince of Peas |
| | |