Mission Commission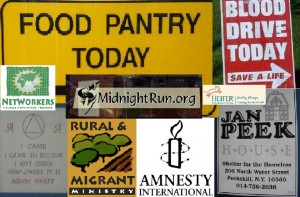 He has told you, O mortal, what is good; and what does the Lord require of you but to do justice, and to love kindness, and to walk humbly with your God? (Micah 6:8)
The Mission Commission seeks to build God's Kingdom in this time and place. Through gifts of talent and treasure, we support missions throughout our world. We also seek to reach out to members of our own community to provide support and care. Our commission members seek to preserve and enhance the blessings of this earth and ALL of its people. Through networking within our community and with outside groups who share a common vision, we address the issues of hunger, oppression, poverty, homelessness, discrimination on the basis of sexuality, substance abuse, and the pain of illness or loss of a loved one. Our central purpose is to provide care for the vulnerable among us.
Mission
Scroll down to review all the giving opportunities available during this Advent and Christmas season.
     TOYS FOR TEENS 
Each year we distribute Toys for Tots in collaboration with the U.S. Marines during a food pantry in December. This is a wonderful program, but the gifts tend to be almost exclusively for young children and many pantry clients have older children as well. We are asking for help to supplement the Toys for Tots program with Toys for Teens - gifts for older children & teens (ages 12-18). Some gift ideas are:
For girls: nail polish sets, perfume, handbags, makeup kits, scarves
For boys: cologne, Axe body wash, shave kits, hair gel, model cars
For both: basketballs, soccer balls, diaries, books, games, CDs, scarves, grooming kits, sketch pads, art supplies, gift cards.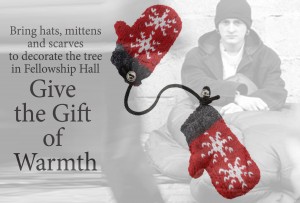 HAT AND MITTEN TREE
Support our food pantry families with either hand-knitted or purchased hats and mittens. Bring new hats, mittens and scarves and add them to the tree. They'll be distributed during the food pantry.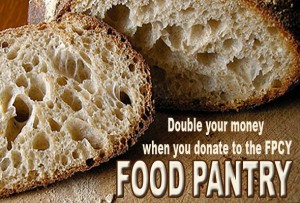 FOOD PANTRY CARDS
Help raise funds to support the work of our food pantry. Dollars donated are matched by a grant. Available in Fellowship Hall on December 1 & 8. Donations to the Food Pantry always welcome...just write "Food Pantry" in the memo line.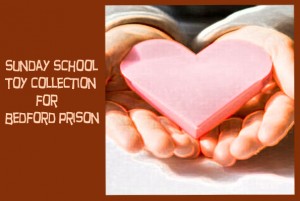 BEDFORD PRISON CHILDREN'S CENTER
Toy collection on Dec 15. Please bring new unwrapped toys to the Sanctuary (and place them on the left side). Kids can bring their gifts to Sunday School "Opening Worship" time. Gifts they request are: art kits, games, puzzles, science kits and toys are requested that kids can play with their moms when they visit. This is an integral part of the parent training in the Prison Children's Center. Mom's earn money and "spend it" to choose a gift for their child. This has been a highly successful program for supporting children and working to promote healthier family relationships while Mom is in prison. Other gift suggestions are basketballs, footballs, nerfballs, other sports equipment as well as gifts for older kids and teens: gift cards, grooming sets, make-up kits, wallets, appropriate movies, fashion accessories, slippers and cozy socks, etc. We CANNOT accept stuffed animals or clothing items in orange, black or dark green.
   RECYCLE YOUR REFUND
Support the Living Waters project of PCUSA, in conjunction with Grandview Methodist Church in Kansas. Rinsed cans & bottles are being collected in the gathering space.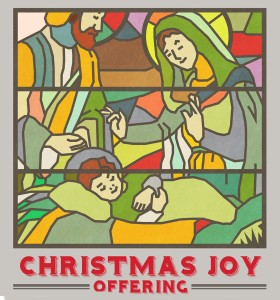 CHRISTMAS JOY OFFERING
Every year the Presbyterian Church collects the Christmas Joy Offering to provide financial assistance to current and former church workers, and to support our racial/ethnic colleges. You can learn more here.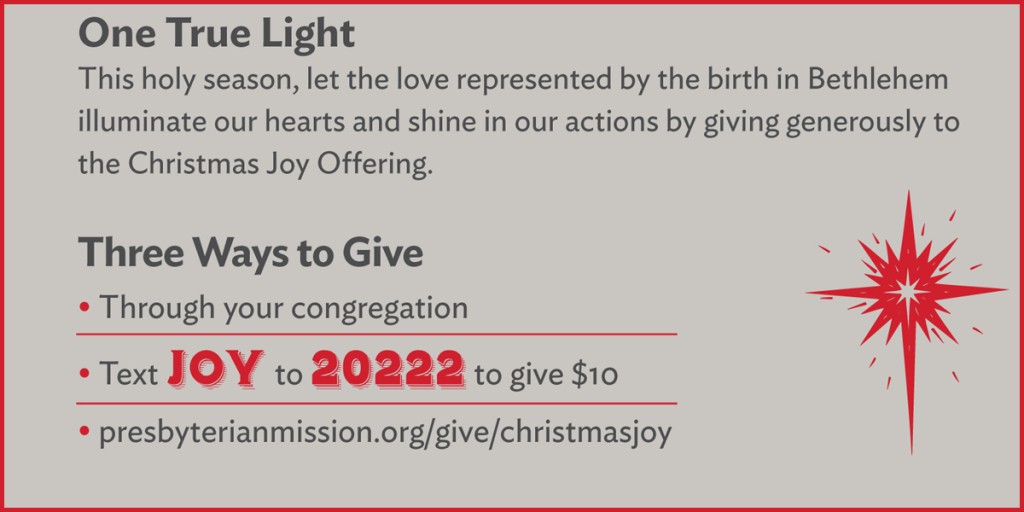 Mission