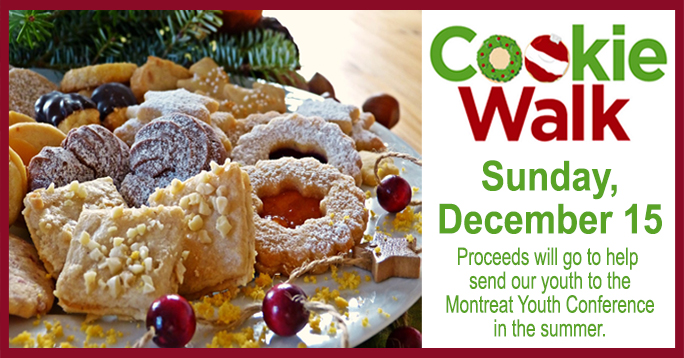 We're looking for a few more cookie bakers and cookie sellers this weekend; big thanks to everyone who has already signed up!
Here are three ways that youth and families can participate: 
1) Bake some of your family's favorite cookies at home and bring them to the church either on Saturday afternoon (12/14) or before the 8:30 service on Sunday morning.
2) Join us this Saturday at the church from 4- 6 pm we'll have a cookie baking fiesta for all Youth, 6th grade and up, to help bake and decorate cookies and the get the tables in Fellowship Hall set up.   
3) Sign up for a volunteer slot to help sell cookies on Sunday morning (when you're not in Sunday School or Worship). We'll have containers for people to purchase and then they'll be able to choose from our amazing assortment of cookies.
So, if you want to bake at home, bake all together on Saturday, 12/14, or  sell cookies on 12/15, sign up to help make the Cookie Walk a success by clicking here: 
tinyurl.com/fpcy-Cookies2019
What is a Cookie Walk? It's a special kind of bake sale that is all about cookies: round cookies, bar cookies, fancy cookies, classic cookies! The proceeds will support out Youth Group activities, especially our team going to the Montreat Youth Conference this summer (see more about that below).
Our Cookie Walk will be accompanied by displays of nativity sets  from members of our congregation.  It's going to be a super festive day!