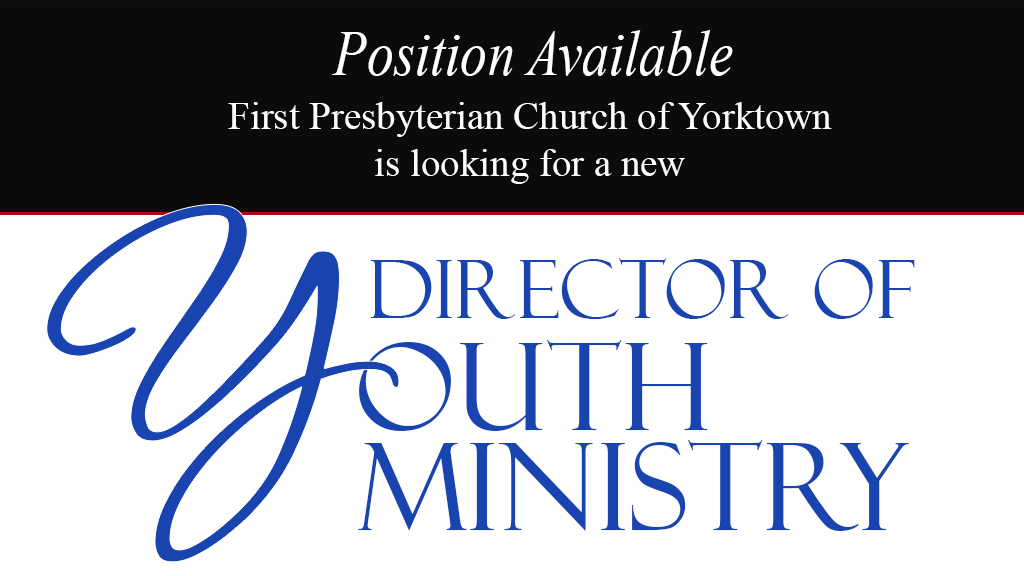 First Presbyterian Church of Yorktown Heights, NY
The Director of Youth Ministries will work in accordance with FPCY's Youth Ministry Mission & Values:
Mission:
The youth ministry of FPCY invites our youth and their friends into a welcoming and vibrant community that
Surrounds youth with an unconditional love that fosters genuine relationships;
Engages youth in the joys and traditions of the Christian faith;
Energizes youth to extend the love of Christ to the world.
What We Value:
Grace: God's greatest gift to us, is the foundation of all we do and strive to be.
Growth: Our covenant with youth begins at baptism and grows throughout their lives; we support and encourage our youth as they grow in their faith in God, their relationships with the church, and with each other.
Trust: We provide our youth with a nurturing and safe environment enabling them the opportunity for honest expression and inviting their questions and opinions in a non-judgmental way.
Inclusiveness: Believing that all people are created in the image of God, we welcome youth with diverse identities, backgrounds and gifts to share in faith and ministry together.
Joy: We live a faith that shows our love of life, our delight in God as our strength, and our desire that others know this faith with us.
Service: We seek to discover and express our faith through service to our community. By helping others, we learn more about ourselves and our relationship with God and those around us.
Community: We embrace our youth as vital members of a dynamic community, integrating them in the life and work of the Church as we also seek to know them as individuals.
Responsibilities:
Youth Ministry Team
Work with Pastors and Church Elders to create a Youth Ministry Team (YMT) of 4-6 adults from the church who will support the DYM in his/her/their role
Serve as central coordinator for the YMT, delegating tasks to adults on the team and church membership as needed
Plan youth group meetings and activities that reflect our Mission and Values with youth and adults of the church
Collaborate with Director of Music Ministries to incorporate music into youth ministry activities
Church
Encourage and organize youth involvement in faith formation, mission and service opportunities, such as CrossGen, Confirmation, Mission Trips, VBS, community outreach projects, youth conferences, etc.
Encourage and organize youth involvement in youth activities of the larger church, such as Triennium and presbytery-related opportunities
Work with teachers and youth in the high school Sunday School class
Evaluate high school and middle school youth curriculum and ensure that it remains aligned with the beliefs of the church and relevant to the youth

 

Plan Confirmation with the pastors
Outreach
Coordinate youth events with other local faith communities as possible
Administration
Develop/maintain best communication practices with youth, parents, congregation, Faith Formation and Communications Commissions
Maintain information pertaining to youth in the database and other youth-related administrative tasks
Commission Involvement
Faith Formation – attend FF meetings and Sunday School Committee
Engage with other commissions (Worship Design, Mission, etc.) to provide more opportunity for intergenerational connection and community-building
Hours:  20 hours/week including Sundays, some office hours on 2 weekdays, and other times as necessary.
Salary and Benefits
Salary: $28,000 ($27/hour)
Other benefits available and will be discussed with candidates.
Interested candidates should send resumes to: dymsearch@fpcyorktown.org