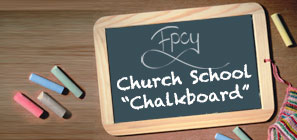 We want to take this time to thank everyone for a terrific Sunday School year!  Through all the teachers shepherds, gathering time leaders and storytellers, the children have grown tremendously in their faith journey.  As we close the year of "Quest for Identity", the children are learning from Paul how to be a Christian.  The children are eager to share what they have learned with everyone on Children's Sunday!
We are going to continue the Living Waters project through the summer.  Thank you to all who have and continue to support this mission.
Hope you all have a peaceful summer and we look forward to seeing everyone in September!
Jocelyn Fontana & Jen Dixon, Superintendents