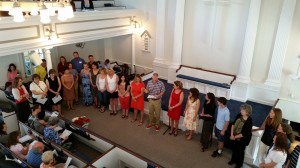 Adult Volunteers of our Education Ministry
This week's service celebrated the children and youth of our church with music by our bell choirs and youth, and the many adult volunteers who staffed our Church School and Youth ministry.  Instead of a traditional sermon, we had a skit, which was not recorded and so is not available here.
We do offer videos of three musical offerings by our youth hand bell choir, and a hymn by our youth:
The bulletin for this week is available here.