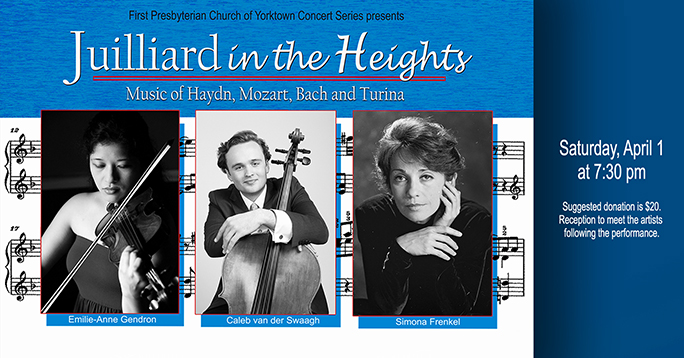 The final concert in the 2016-2017 Concert Season will be held on Saturday, April 1st at 7:30 p.m., and will feature three classical musicians from The Juilliard School including our own Simona Frenkel on piano, Emilie-Anne Gendron on violin and Caleb van der Swaagh on Cello.
In celebration of April Fools' Day, in addition to the music of Joseph Haydn, Johan Sebastian Bach, and Joaquín Turina, the audience will be treated to some famous "musical hoaxes," as well as a composition by P.D.Q. Bach, the youngest, least known, and certainly the oddest son of Johan Sebastian Bach's twenty children. A lively musical detective will help narrate the evening, and help the audience "detect" which compositions are the hoaxes!
Violinist Emilie-Anne Gendron who returns in her third appearance at the FPC Concert Series, holds the distinction of being the first person in Juilliard's history to be accepted simultaneously to its two most selective courses of study, the Doctor of Musical Arts and the Artist Diploma. She holds a B.A. in Classics, magna cum laude and with Phi Beta Kappa honors, from Columbia University as a graduate of the Columbia-Juilliard joint-degree program, and a Master of Music degree and the coveted Artist Diploma from Juilliard.
Cellist Caleb van der Swaagh, who is making his debut at the FPC Concert Series, graduated magna cum laude from Columbia University as part of the Columbia-Juilliard Exchange program with a degree in Classics and Medieval & Renaissance Studies. Caleb received his master's degree with academic honors from New England Conservatory and later studied at the Manhattan School of Music. He is the recipient of the Tanglewood Karl Zeise Memorial Cello Prize and the Manhattan School of Music Pablo Casals Award.
Simona Frenkel is an internationally recognized pianist, organist and conductor. A native of Kiev, Ukraine, Ms. Frenkel holds a MM degree in performance from the Juilliard School of Music, Tallinn and Kiev Conservatories, and a Ph.D. in musicology from the Kiev Conservatory. She has been the Director of Music at FPCY since 2000, and is the Artistic Director of the FPCY Concert Series.
A reception to meet the artists will take place following the performance. A donation of $20.00 is requested but not required to support the concert series.
httpv://www.youtube.com/watch?v=7v-UI3yekg8
httpv://www.youtube.com/watch?v=wnl2kbHU2FI