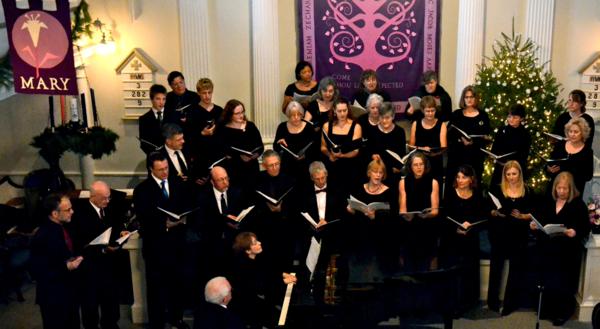 On December 2nd at 4:00, The First Presbyterian Church of Yorktown's 12th annual  Sunday Afternoon Concert Series will present its annual Christmas concert The Best of Christmas, featuring  Handel's Messiah (Part I, the Christmas Portion) and contemporary  Christmas favorites. The concert features guest professional soloists,  Adult Choir and the orchestra of the Instrumental Ensemble Concertino New York under the direction of Simona Frenkel.
Handel's Messiah is a  beloved musical Christmas tradition and arguably the most popular piece of music in the world. The Christmas portion of the Messiah follows the story of Jesus' birth from early prophesy, to Bethlehem and the stable, and ends with the glorious Hallelujah  chorus. The Messiah portion of the concert will feature Kristina Bachrach, soprano, Nadine Kulberg, alto, Christopher Sokolowski, tenor, and Matthew Curran, bass, as well as the early music instrumental ensemble, harpsichord and choir.
The second half of the concert will feature contemporary popular Christmas selections for soloists, small ensembles and choir — truly the musical best of Christmas.  The Christmas Concert is always a popular concert. Reservations and preferred seating can be assured by contacting the church office at (914) 245-2186.  The concert is open to all, and a contribution of $20.00 is suggested.
A reception will follow the concert in Fellowship Hall. The First Presbyterian Church of Yorktown is located at 2880 Crompond Road, Yorktown Heights, at the intersection of Routes 35/202 and 132. www.fpcyorktown.org