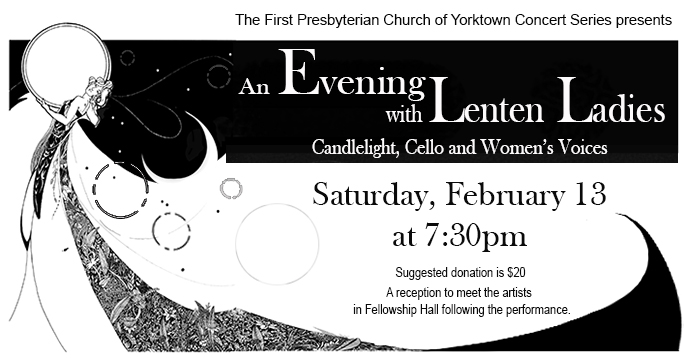 An Evening with Lenten Ladies
Candlelight, Cello and Women's Voices
Saturday, February 13th at 7:30 p.m.
On Saturday February 13th at 7:30 p.m. the First Presbyterian Church of Yorktown's 2016 Concert Series will present a concert of women's music featuring the virtuoso international artists Andre Tchekmazov, cellist, and Simona Frenkel, pianist. The concert will feature well-beloved selections including the Andrew Lloyd Weber Pie Jesu, Sergei Rachmaninoff Vocalise and Franz Schubert Psalm 23, as well as less-familiar classical and modern works by Brahms, Bach-Gounod, Chilcott and Walker. Mr. Tchekmazov was the Grand Prize winner of the Vittorio Gui International Chamber Music Competition and the Premio Trio di Trieste. He has performed extensively throughout North and South America, Europe, Russia and Asia, appearing with orchestras such as the Sao Paolo Symphony, the Moscow Chamber Orchestra, the Kiev Philharmonic and the Teatro Alfa Symphony. Dr. Frenkel is a widely acclaimed pianist and organist, a winner of numerous international competitions including Concertino Prague and Lysenko National (Ukraine). She holds degrees from the Ukraine Conservatory and Julliard and was celebrated in 1994 as the youngest organist to receive the Honored Artist of Ukraine designation.
This beautiful mid-winter evening concert will be held in the historic candlelit sanctuary at 2880 Crompond Road, Yorktown. A reception will follow in Fellowship Hall, and a donation is suggested to help support the concert series. For more information: (914) 245-2186.
If you would like to be placed on the email list for the Concert Series please click here.