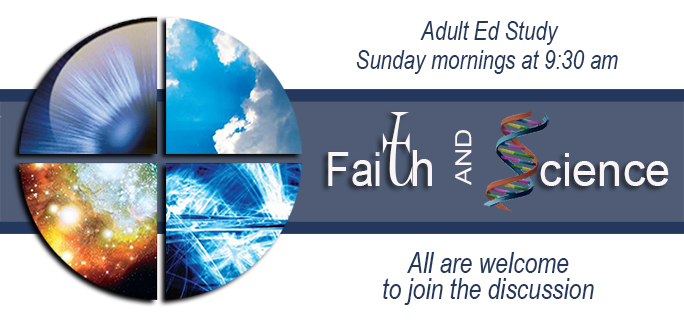 Can science enrich our theology? For reformed theology, the answer is a resounding 'Yes!' We believe that through the presence of the Holy Spirit, God inspires human understanding, elevating our limited capacity to know the mysteries of God's love and the wonders of God's creation.
Join us on Sunday, January 10th as we begin a six week series on faith and science. We'll be using a book written by Ronald-Cole Turner. The Rev. Dr. Ronald Cole-Turner is the H. Parker Sharp Professor of Theology and Ethics at Pittsburgh Theological Seminary, a position relating theology and ethics to developments in science and technology. The book is part of the Being Reformed: Faith Seeking Understanding series.
For Reformed Christians, science is both promising and provocative. It raises tough questions about how God creates, what it means to be human, and where technology will take us next. This study invites participants to rejoice in the wonder of creation seen through science and to grapple honestly with new challenges it presents to our faith.
You are also invited to watch an upcoming documentary on PBS about "the inside story of six brilliant scientists seeking to learn the truth about an essential mystery of the universe, documenting the successes and setbacks in the planet's most significant and inspiring scientific breakthrough."  Channel 13: Wed, 1/6, 10 pm and Fri, 1/8, 3:30 AM
Channel 21: Thurs, 1/7, 8 pm; Fri, 1/8, 1 AM; Fri, 1/8, 9 am; Fri, 1.8, 3 pm.
The study will meet on Sunday mornings (January 10, 17, 24, 31, and February 7 and 14) at 9:30 am in the lounge. All are Welcome!