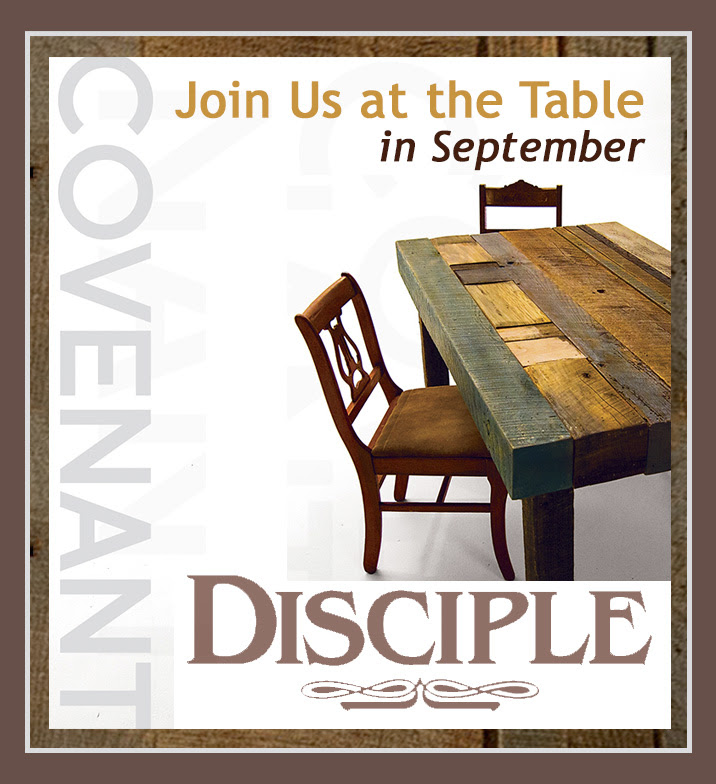 Come join us at the Table – give Covenant or Disciple a try!
Have you always wanted to read the Bible but didn't know where to start? Would you like Scripture to come alive for you? Would you like to get together with other folks for great discussion and fellowship?
This year we are pleased to offer two in-depth group Bible Study options – Covenant and Disciple. Both studies involve personal daily Bible reading and a weekly group meeting which will include lively discussion, prayer and fellowship.
Covenant Bible Study centers around our relationships with God, with each other, and with the world, and it underscores the unique relationship that God chooses with us as God's people. The 24-week study, divided into three 8-week sessions covers the whole Bible by moving between the Old and New Testaments and discussing books from each in a way that shows the interconnectedness of scripture as a whole. Covenant aims to deepen your relationship with God, one another and the world.
Disciple Bible Study has been changing lives and growing faith for over 30 years. Our church is participating in testing out a revised curriculum called Disciple Fast Track. Also 24 weeks, Disciple Fast Track spends 12 weeks in both the Old and New Testaments, so that participants experience the whole Biblical story from start to finish. Disciple calls on people to dig deeply into the Bible, to put themselves under the power of God's Word, and to be transformed into more faithful disciples.
If you would like learn more about Covenant and Disciple, please contact Tami Seidel or attend an information session after worship on September 6, 13 & 20. Possible group times include: Sunday evenings, Tuesday mornings, Wednesday evenings, Thursday mornings and evenings, and Friday mornings. Please let Tami and Chip know if you're interested so we can assign meeting dates/times and get started the week of September 20.