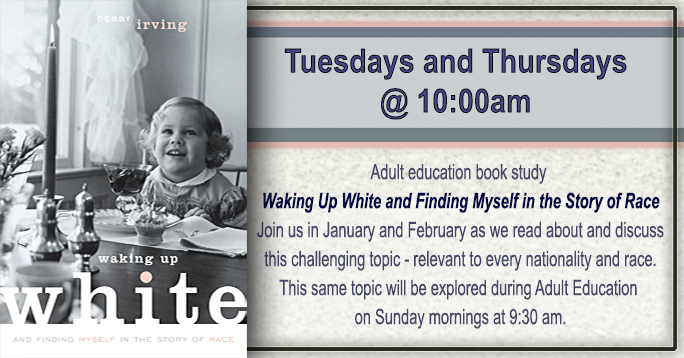 On Tuesday and Thursday mornings at 10 am and Sunday evenings at 6pm during January and February we will discuss issues of racism, privilege and faith. We will be using the book Waking Up White, and Finding Myself in the Story of Race by Debby Irving, along with a study guide written by former moderators of our General Assembly and other resources. Although this can be a challenging topic, Waking Up White is an excellent and accessible introduction to reflection on these issues – and it's not just for white people.
The books are $20 and available in the office-we encourage everyone to read the book. We hope this will encourage congregational dialogue outside of our study sessions.
On Sunday mornings we will be exploring the same topic using a study pack from The Thoughtful Christian. Our sessions will include, "Why is it so hard to talk about racism? "(1/13), "Racism 101″ (1/20), "A History of Racism in the United States" (2/3, 2/10, 2/17 and 2/24).
Please join us for these important conversations.