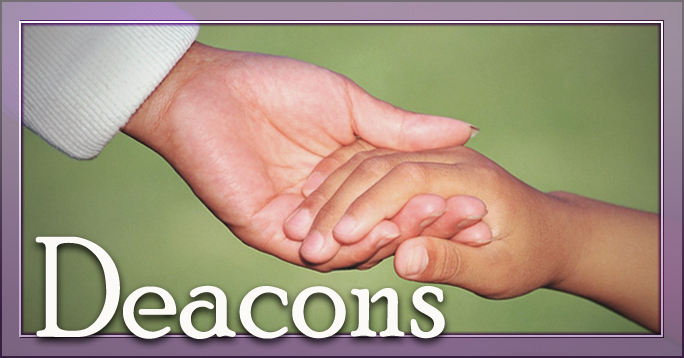 1.) Would that my eyes
could see you, Lord,
The calling of your voice;
I'd haste to do your bidding and
In all your Will rejoice.
3.) If I could only see you,
if my ears could only hear;
I would have no need of doubt.
I would have no need of fear.
2.) When I listen very quietly,
The stirring of my heart
Beckons me oft to go into
The world and do my part.
4.) I will hear the call of others,
my brethren one and all;
and when I listen from my heart,
I will know I've heard your call.
– C. Thorne
The Deacons had an opportunity recently to meet with the young members of our Confirmation Class. The meeting was to acquaint the students with us and to allow them to interview us and learn about what Deacons at our church really "do."
The experience was truly "eye-opening" for all involved. The young interviewers were enthusiastic and well prepared in advance with their questions. They were bright-eyed and ready to start their interviews. Their questions were well beyond just, "What do Deacons do?"
The young students asked each of us separately how long we had attended this church. Have we ever attended other churches and denominations? Why did we want to become Deacons? What is the role of the Deacons? How does our work as a Deacon help to grow our faith? What part is most meaningful to us? And so on.
Each Deacon was interviewed for a short period of time as the students played a kind of "musical chairs" as they moved about the room to meet and interview the next Deacon. I was surprised and pleased with the depth of the questions. I realized that I had to answer quickly or I would not be able to complete all the questions before time was called and I met the next student.
Deacons had to search their hearts and minds quickly for answers as we found that we were being asked deeply probing questions about our beliefs, who we are as Christians, and why we did and continue to do the things we do as we call ourselves Christians. To the direct question, "What do Deacons do?" I found myself answering in a way I had not anticipated. "Deacons are like 'worker bees' – they see a need and try to fill it."
"Worker bees!?" I realized that for me, that pretty much sums up what it means to be a Deacon. We see a hurt –  a need. Someone's health is failing, someone has lost a loved one. There are the hungry, the lonely, the lost, and the forgotten. And just as Jesus showed us by his own example, we serve and minister and lessen the pain and the loneliness.
"Why," we were each asked several times. Because we have chosen and keep choosing to follow Jesus – to love God and to love one another as children of God – just as Jesus taught us to do.
It was a privilege to meet and share with the young people of the Confirmation class. They are asking themselves the questions we asked ourselves years ago. They are growing in faith and also making their own decision to "come and follow Jesus."
– a decision we do not make once but one we make over and over again throughout our lives – with all the people, in all the places and in all the ways we are called by Jesus to love and serve one another. Why? Because God first loved us – each and every one of us.
Carol Thorne-Gaetani for the Deacons