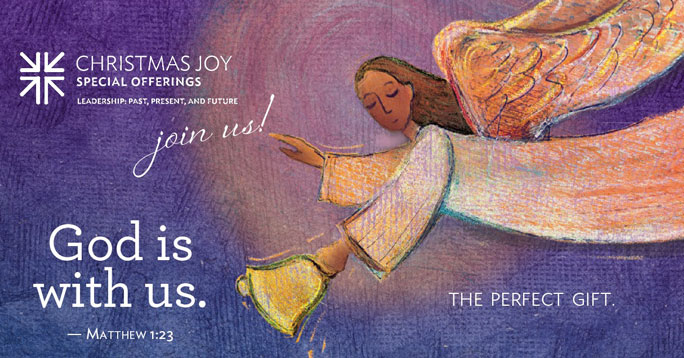 Rev. Dr. Stewart M. Pattison has been living with multiple sclerosis for years. As his health has recently forced him to retire, gifts from the Christmas Joy Offering have come to have special meaning for him. A portion of gifts received from Presbyterians in congregations like ours go toward supporting church leaders in their times of critical financial need.
This is something Rev. Pattison truly appreciates. Several years ago, he received a grant from the Assistance Program of the Board of Pensions and the Presbytery of Chicago.
Rev. Pattison used his grant for the purchase of a specialized scooter which he has affectionately nicknamed "Di Blasi" in honor of the manufacturer.  A scooter seems like a simple thing, but in fact it was a game changer.  Di Blasi made it possible for him to continue his ministry as the solo pastor of the Community Presbyterian Church of Lombard, Illinois, a calling that he answered with love for more than 20 years.
You can give to the Christmas Joy offering using the special envelope, marking your check or gift "Christmas Joy," or online.
Now that he is fully retired, the Board of Pensions is also providing support and assistance as Rev. Pattison navigates the Social Security Administration system, which he says can be a "very difficult process."
"They tell me what they need, and they just kind of get the job done," he explains. "To just know you have someone there to help you navigate all the red tape is so helpful."
Rev. Pattison offers an important perspective for us to think about in dealing with the many challenges of things like the COVID-19 virus. "For lots of people, the virus was a temporary stay-at-home thing," he says. "A disability can also be a stay-at-home thing—sometimes a permanent stay-at-home thing if you don't have anywhere to turn for help. What the Board of Pensions does is really important to me and others like me, so that we can carry on even with our disabilities. They've helped in ways that have opened up my life."
Rev. Pattison wants everyone to know how much it means to have the support of Board of Pensions in his life and in the lives of other retirees and church leaders who need a helping hand. "I'm grateful for those who give to this Offering," he said.
If Rev. Pattison were with us today, I'm sure he would be nodding in agreement when I say that when we all do a little, it adds up to a lot.  Please give generously.
Let us pray~ 
O God of hope and healing, scoot us into places where our hands can help, and we can be places where your healing and your hope are shared.  Amen.