Categories
Our website supports a number of categories that are used to classify posts.  This page summarizes the categories.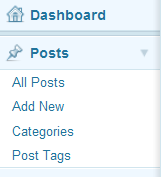 After logging in to the website, you can see a list of the existing categories by selecting the "Categories" link under "Posts" in the left-hand column of the website dashboard. (Click on "Posts" to expand this area if needed.)
The names of the categories are self-explanatory.  Most of them match the name of the page where each category appears.  For example, posts with the "Adult Ed" category appear on the "Adult Ed" page.  All commission reports appear as sub-categories under "Reports".
There are a few special categories:
| | |
| --- | --- |
| Category | Description |
| Home Page | "Rotating Posts" section at the top of the home page |
| What's Happening | "What's Happening" box in the right-hand column on almost every page of the site |
The "What's Happened" box on the home page does not have a category.  Instead, it automatically shows all Reports, plus these categories: Chip's Message, Church History, Disciple, and Sermons.